Trial
Humic Land Application on Alfalfa crops after extreme Spring Draught and Winter Conditions
Objective
The Effect of Humic Land on Alfafa to increase relative Feed Value
Rates
2 Liters /Acres (dilution ratio 1:250)
Irrigation Type
Sprinkler
% Dry Matter
% Crude Protein
% Digestible Protein
1st Cut
2nd Cut
1st Cut
2nd Cut
1st Cut
2nd Cut
Control
26.000
23.930
15.468
15.843
10.928
11.255
Humic Land™
28.080
23.250
15.525
17.040
10.973
12.305
Humic Land™ -30% Nitrogen
25.980
24.330
15.100
16.048
10.603
11.433
Total Digestible Nutrient Index
Relative Feed Value
1st Cut
2nd Cut
1st Cut
2nd Cut
Control
61.178
57.605
165.778
139.918
Humic Land™
61.328
59.715
167.325
153.958
Humic Land™ -30% Nitrogen
60.368
59.193
158.465
150.438
Total Digestible Nutrient Index
Relative Feed Value (1st Cut)
Relative Feed Value (2nd Cut)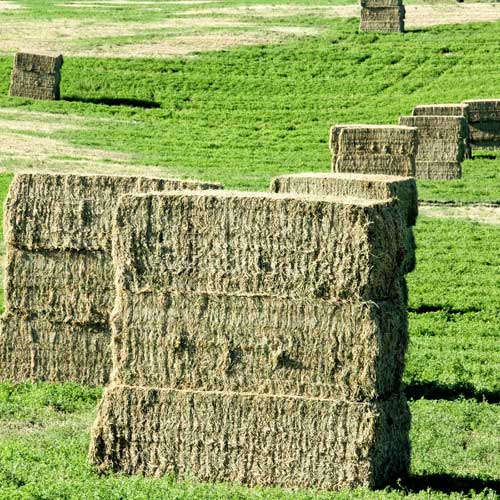 Final Results & Observations
Jemmett Consulting and Research Farm | Parma, Idaho - 2021
-30%
Fertilizer Reduction
Observations
An increase of +10.03% Relative Feed Value on the Humic Land™ second cutting
An increase of +7.5% Relative Feed Value on the Humic Land™ second cutting despite a -30% Nitrogen Reduction
Straight From The Grower
Jemmett Consulting and Research Farm | Parma, Idaho - 2021
...the humic land treatment (3) with reduced nitrogen was not significantly less than other treatments with more nitrogen.
- Eric Jemmett | Owner, Jemmett Consulting and Research Farm
What Is Humic Land™ ?
Increase Yields | Improves Nitrogen Uptake | Reduces Watering Costs
Humic Land™ is an organic soil amendment that increases your soil's ability to cycle nutrients to relieve your fertilizer dependence.
Unlike other Humic Acids available on the market that originate from Lignite or Leonardite, Humic Land™ comes from Black Peat.  A vital distinction, as not all Humic Acids are made equal. Humic Land™ is made from peat, using cavitation and fine grinding without any chemicals used in the production process.
The resulting product is a peat gel that is 100% Organic which restores soil health and prevents Nitrogen Leaching.
Rebuild your soil with Humic Land™ directly at the rhizosphere where it matters most by improving nitrogen retention. When nutrients are readily available as your crops needs them... yields increase.
Find Out What Humic Land™ Can Do For You
Overall Healthier Crops

Increased Stress Resistance To Plants
Improved Root Mass & Root Structure
Reduction of Fruit Sunburn

Cut Overhead Costs

up to -30% Reduction of Watering Costs
up to -30% Reduction of Fertilizer Requirements

Increased Profit Margins

Yield Increases - Boost Overall Revenue
Reduction of Input & Water Costs - Significantly Lower Your Overhead Costs