Trial
The goal of this trial was to highlight Humic Land™'s replicability of use on several different ranches in Ventura county.
Soil Type
Soil Types may vary among the different fields and were not sampled prior to the trial.
Objective
To demonstrate consistent yield increase on Cilantro across different fields and conditions when incorporating Humic Land™ (control fields were kept to have measurable data)
Rates
1 Liter / 2.5 acres
3 Applications per Field
Dilution Ratio: 1:250
Location
Ventura County, California
Trial Size
10 fields of various sizes ranging from 0.20 to 1.65 acres
Irrigation Type
Sprinkler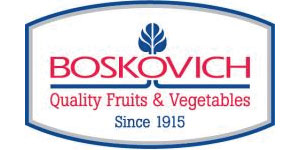 Boskovitch Farms
30+ Products year round | 18,000 Total Growing Acres
Boskovich Farms has been farming for over 100+ years and continues to be the largest grower and shipper of fresh cilantro.
Trial Details
The main difference between the 10 blocks is the variable field size. The fields were sowed at different times.
Application Schedule
Field / Acres
Grower
Ranch
1st Application
2nd Application
3rd Application
A - 0.23 acres
Terry
Vacca
2020-04-19
2020-05-03
2020-05-30
B - 0.26 acres
Coultas
Riverview
2020-05-02
2020-05-16
2020-05-30
C - 0.98 acres
Terry
Vacca
2020-05-16
2020-05-30
2020-06-13
D - 0.75 acres
Coultas
Riverview
2020-06-19
2020-07-03
2020-07-17
E - 1.65 acres
Terry
Vacca
2020-06-23
2020-07-07
2020-07-21
F - 0.5 acres
Bengard
Alford
2020-07-13
2020-07-27
2020-08-10
G - 1.0 acres
Bengard
Alford
2020-07-27
2020-08-10
2020-08-24
H - 1.0 acres
Coultas
Riverview
2020-08-20
2020-09-03
2020-09-17
I - 0.5 acres
Campbell
20
2020-08-21
2020-08-29
2020-09-06
J - 1.0 acres
Campbell
11
2020-08-29
2020-09-06
2020-08-29
Humic Land™ - Cilantro Cartons per Harvested Field
Humic Land™ - Cilantro Cartons per Acre
Total Cilantro Cartons
Total Cilantro Cartons on an Acre Basis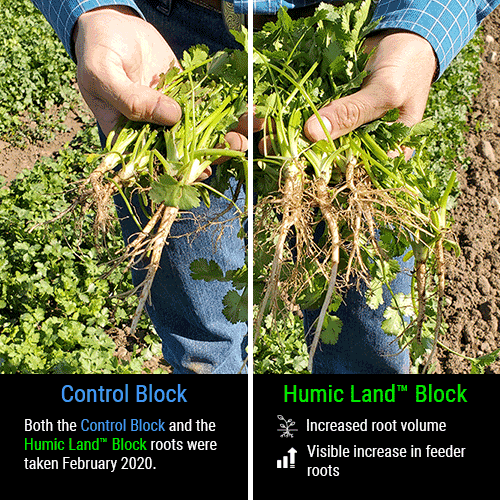 Final Results & Observations
Boskovich Farm | Ventura County, California - March 2020
Observations
Increased root volume from the Humic Land™ Block
Visible increase in Feeder Roots
Humic Land™ demonstrated consistent results replicated across 10 different fields
Straight From The Grower
Boskovich Farm | Ventura County, California - March 2020
"Humic Land has proven to increase cilantro yields by 20% over 10 different fields. Cilantro root establishment is noticeably better. Cilantro stands with Humic Land are visibly more established."
- Bryson Daniel, Boskovich Farms
What Is Humic Land™ ?
Increases Yields | Improves Nitrogen Uptake | Reduces Watering Costs
Humic Land™ is an organic soil amendment that increases your soil's ability to cycle nutrients to relieve your fertilizer dependence.
Unlike other Humic Acids available on the market that originate from Lignite or Leonardite, Humic Land™ comes from Black Peat.  A vital distinction, as not all Humic Acids are made equal. Humic Land™ is made from peat, using cavitation and fine grinding without any chemicals used in the production process.
The resulting product is a peat gel that is 100% Organic which restores soil health and prevents Nitrogen Leaching.
Rebuild your soil with Humic Land™ directly at the rhizosphere where it matters most by improving nitrogen retention. When nutrients are readily available as your crops needs them... yields increase.
Find Out What Humic Land™ Can Do For You
Overall Healthier Crops

Increased Stress Resistance To Plants
Improved Root Mass & Root Structure
Reduction of Fruit Sunburn

Cut Overhead Costs

up to -30% Reduction of Watering Costs
up to -30% Reduction of Fertilizer Requirements

Increased Profit Margins

Yield Increases - Boost Overall Revenue
Reduction of Input & Water Costs - Significantly Lower Your Overhead Costs