Trial
Humic Land Application on Market Fresh Tomatoes
Objective
The Effect of Humic Land™ on Tomato Yield Increase
Rates
1 Liter / 2.2 Acres (dilution ratio 1:250)
Location
Los Banos, California
Trial Size
65 acres (total size including control: 130 acres)
Irrigation Type
Drip System
| Application | Date of Application | Quantity | Dilution Ratio | Method of Application |
| --- | --- | --- | --- | --- |
| 1st | End of March | 30 Liters | 1:250 | Drip System |
| 2nd | End of April | 30 Liters | 1:250 | Drip System |
| 3rd | End of May | 30 Liters | 1:250 | Drip System |
Humic Land™ vs Control - Tomato Cartons / Acre
Analysis via Aerial Imagery
The pictures provided by the the grower indicate an overall increase in plant health across the Humic Land™ block of the field in addition to reduced water salinity and general availability.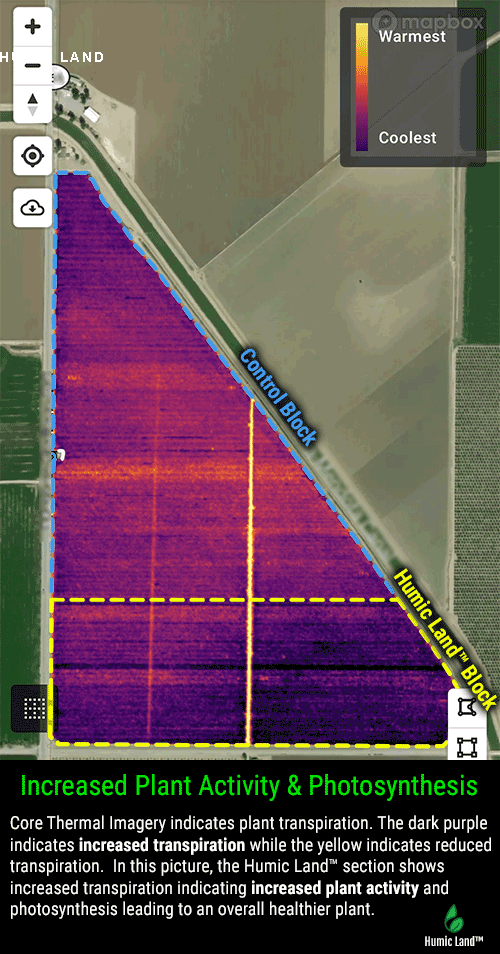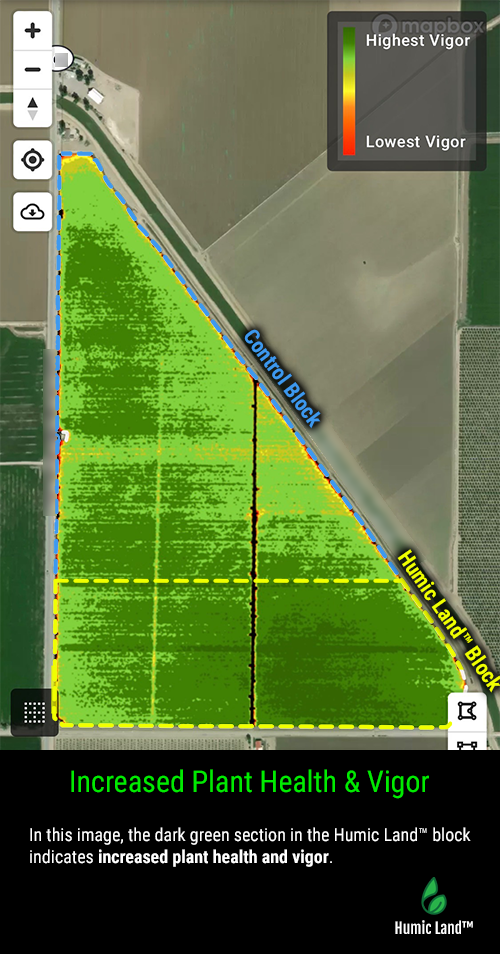 Water Stress - Time Comparison
Pictures of water stress through time and its effect on field temperature.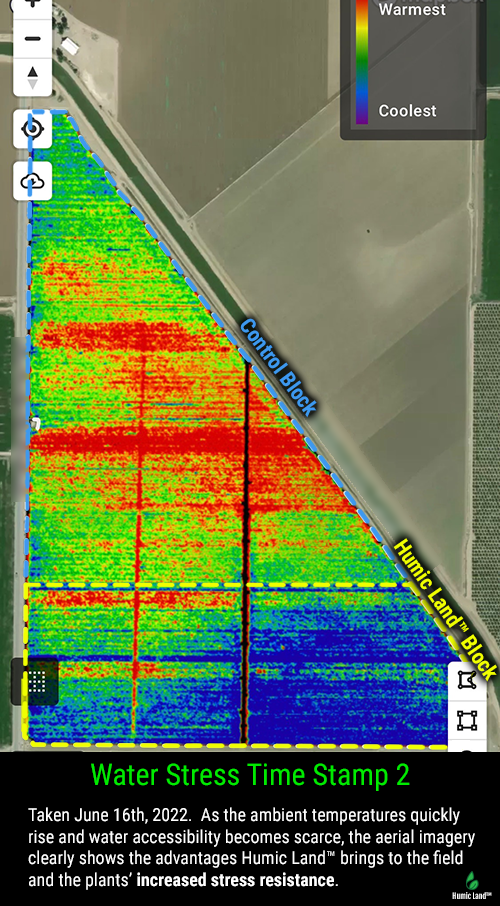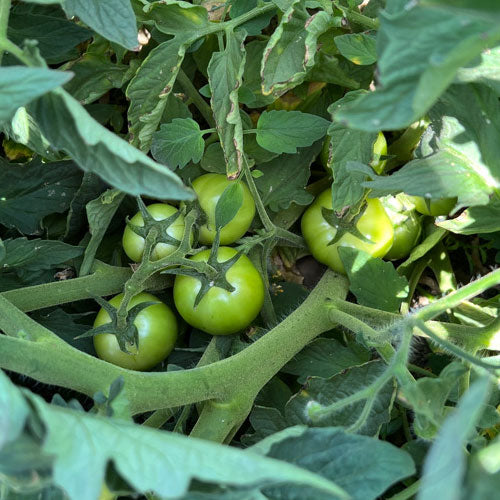 Final Results & Observations
Tomato Grower | Los Banos, California - 2022
Observations
Greater moisture retention at the rhizosphere in the Humic Land™ block
Increased plant vigor
Increased photosynthesis
Decrease in field temperature
Straight From The Grower
Tomato Grower | Los Banos, California - 2022
We were surprised to see the benefits offered to the plants, especially when we used the aerial imagery that clearly showed the increased plant vigor and photosynthesis on the Humic Land block. These improvements were in line with the yield findings and carton count. We never would have thought this type of increase was possible. We have since then adopted Humic Land on all our tomato production.
- The Grower | Los Banos, California - 2022
What Is Humic Land™ ?
Increase Yields | Improves Nitrogen Uptake | Reduces Watering Costs
Humic Land™ is an organic soil amendment that increases your soil's ability to cycle nutrients to relieve your fertilizer dependence.
Unlike other Humic Acids available on the market that originate from Lignite or Leonardite, Humic Land™ comes from Black Peat.  A vital distinction, as not all Humic Acids are made equal. Humic Land™ is made from peat, using cavitation and fine grinding without any chemicals used in the production process.
The resulting product is a peat gel that is 100% Organic which restores soil health and prevents Nitrogen Leaching.
Rebuild your soil with Humic Land™ directly at the rhizosphere where it matters most by improving nitrogen retention. When nutrients are readily available as your crops needs them... yields increase.
Find Out What Humic Land™ Can Do For You
Overall Healthier Crops

Increased Stress Resistance To Plants
Improved Root Mass & Root Structure
Reduction of Fruit Sunburn

Cut Overhead Costs

up to -30% Reduction of Watering Costs
up to -30% Reduction of Fertilizer Requirements

Increased Profit Margins

Yield Increases - Boost Overall Revenue
Reduction of Input & Water Costs - Significantly Lower Your Overhead Costs